Progress is impossible without change; and those who cannot change their minds cannot change anything." ~George Bernard Shaw
I was asked by a member of my new team (more on that to follow) to share some resources that might be helpful as we migrate toward perfection.  Rather than plopping this into a Slack message – I'll share here so he's not the only one to benefit.  
Since humans are imperfect, any convergence of humans will also be imperfect – as will the products of our shared work.  Nonetheless – our goal will always be to make our work product(s) as close to perfect as possible.  
Step 1 – figure out where is the organization is now
This is a review of the people, products and processes in place.  Are teams in place?  are they well aligned?  Is there clarity of vision? 
For this step – we use the Strengthsfinder 2.0 – available here (digital – test only) or here (hardcover book – includes test).  It's important to really understand what this does (and what it doesn't do) – and how to use it well.  If you don't have someone with experience guiding you through administration of this – please read this first.  
We use Strengthsfinder to identify team balance.  Hiring managers will often subconsciously hire others like themselves.  This is human nature and natural and unavoidable – without a tool like Strengthsfinder.  Consider the strength domains:
Likes attract likes.  So a strategic hiring manager will hire strategic thinkers, a "relationship building" leader will hire more relationship builders, etc. The key here isn't that one strength is better than another.  Rather – great teams have balance.
Here's a team I worked with a few years ago.  Each row is a person.  Can you guess what the CEO's strength profile looked like?  Yup.  Relationship/Execution.  No Strategy.  Where did the org suffer?  Strategy.  They were DOING but there was no North Star. The teams were confused and challenged.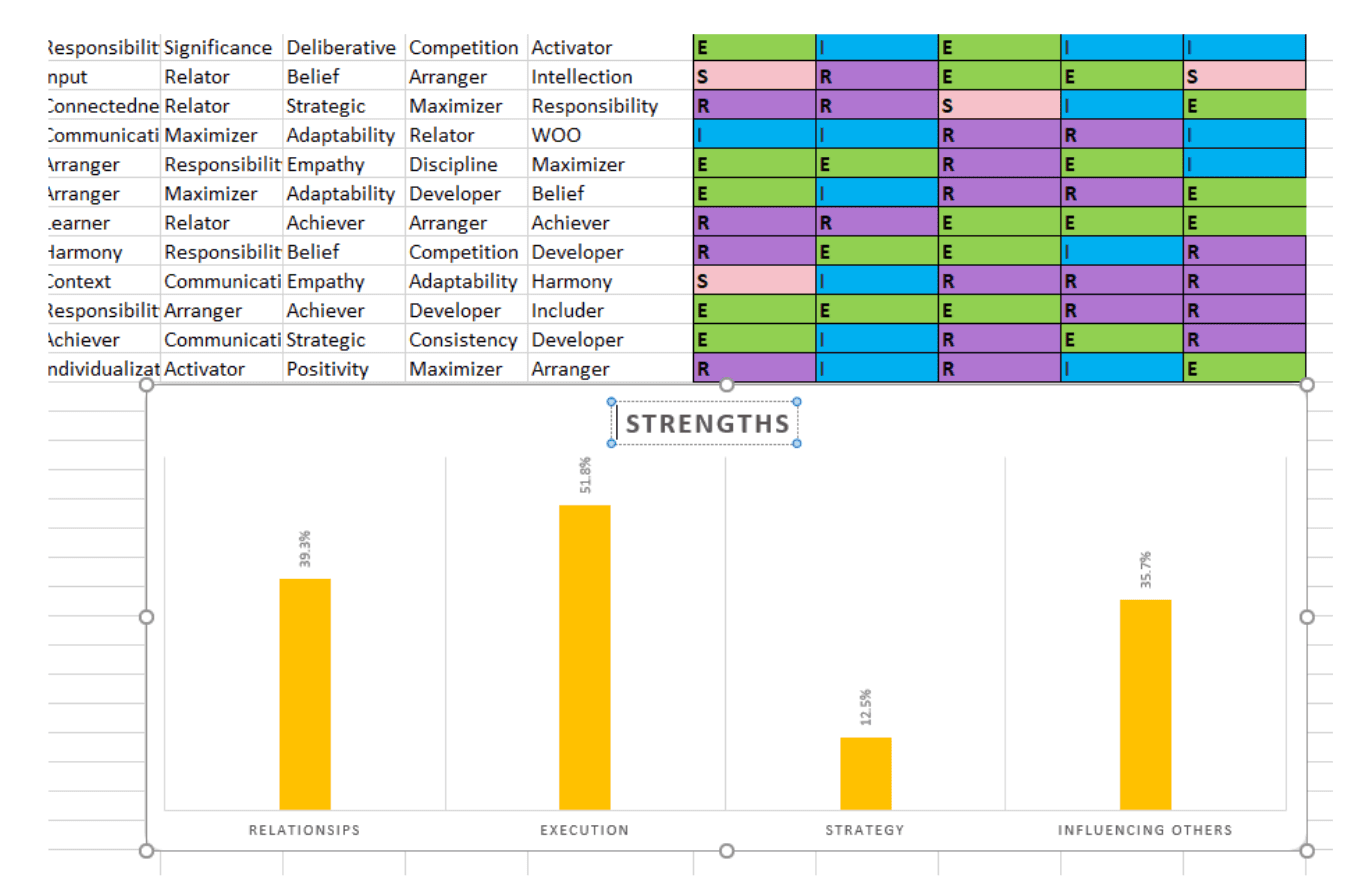 And then .. a year later – after some strategic hiring – still biased toward relationships but much more balanced: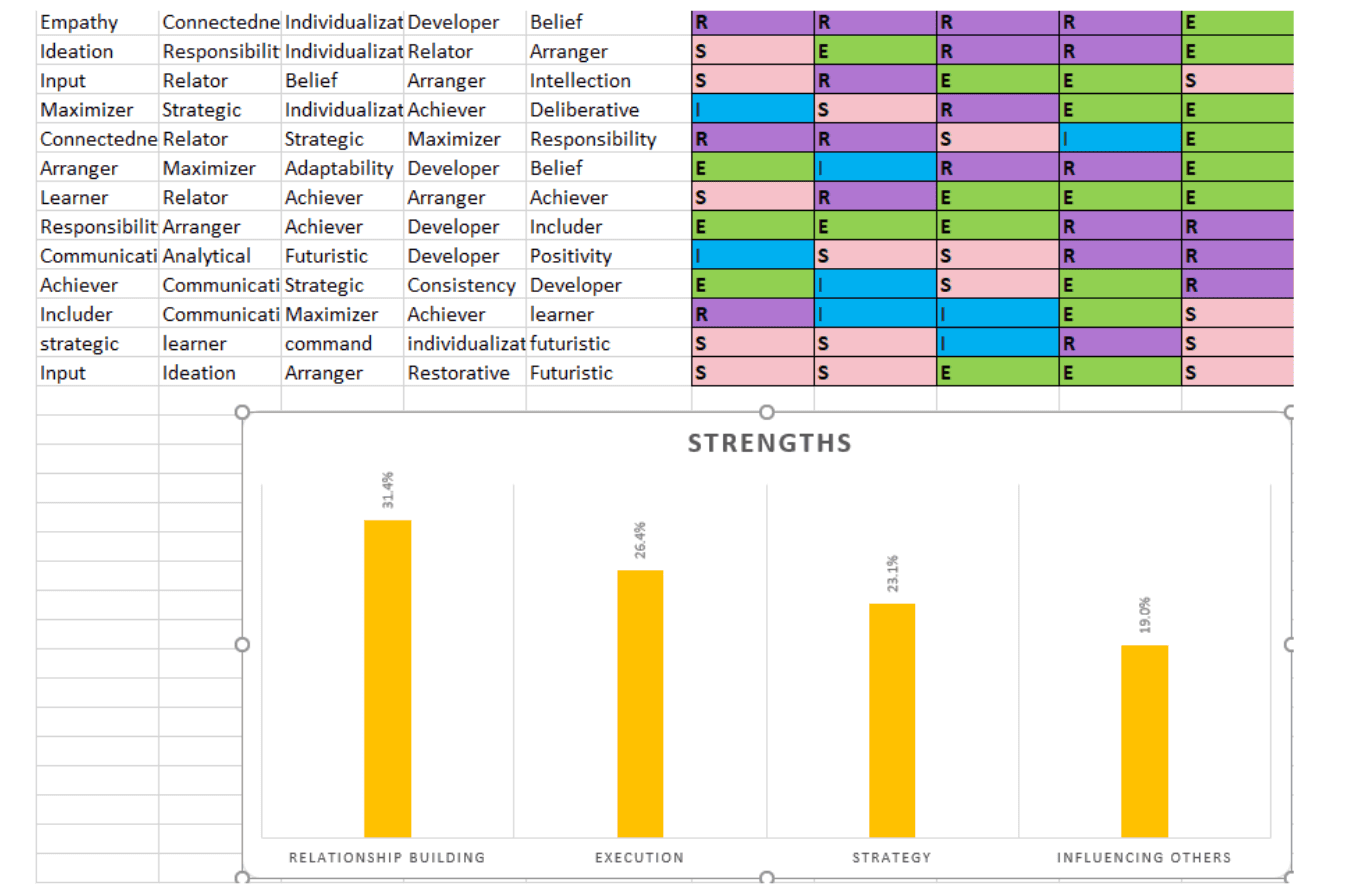 Teams that have this balance will support each other well, build trust and develop interdependencies. as they traverse from competition to collaboration.  Strengthsfinder is therefore the foundation of organizational maturity.  What's next?
Step 2 – chart a course to Stage 4 of the Tribal Leadership model. 

David Logan, John King and Halee Fisher-Wright published this book as a product of work to best understand how to differentiate high-performing companies from those who are more challenged.  Here's the visual:
Ask someone how things are going – and you get the phrase quoted in each stage above. 
Very few orgs live at stage 1 (they'd just die) .. nor do many live at Stage 5. The vast majority of organizations live at Stage 3 – which is normal – but suboptimal. 
At Stage 3, we put energy into competing with each other internally – in order to find affirmation from superiors and/or stand above our peers. 
At Stage 4 – we put all of that energy into collaborating with our peers – maintaining internal drive (yeh – ok – another book) and achieve great things together.  Here's the fun/fascinating part.  Many visionary leaders live at stage 5.  They don't notice/understand that their teams live at stage 3.  But a rule of thumb is that communication across more than one level is impossible.  When a Stage 5 leader communicates their vision, their aspirations, their objectives, level 3 teams hear "compete with each other" and work hard for affirmation – so leaders need to learn to speak in language that their teams can hear.  If a team or team member is living at stage 2 (angry) – then we need to offer affirmation and encourage the egocentrism of stage 3!  This is counter-intuitive – given that stage 4/5 culture is our goal.  But nobody leapfrogs from 2 to 4 .. we need to maximize stage 3 to motivate the traverse to stage 4: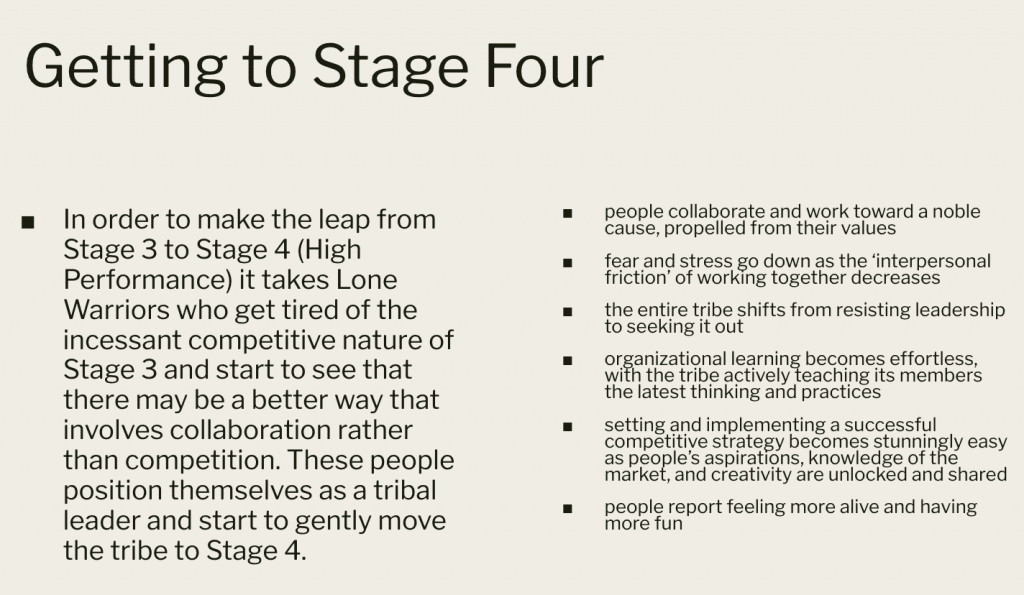 Step 3 – optimize, integrate, maintain focus. 
Are we finished yet?   Well – no.  But we're started.  And that's good.  Other stuff to weave in:
The secret of getting ahead is getting started. The secret of getting started is breaking your complex overwhelming tasks into small manageable tasks, and starting on the first one." ~Mark Twain