We went for a walk yesterday. Griffin carried a stick.
Humans go for walks to "clear our minds" or "get in touch with nature."  Dogs already have clear minds. For them, the freedom of a walking trail without security of a leash or the familiarity of a daily walking route can, it seems, be confusing.  "What am I here for?"  "Where are we going?"  "What's our goal?"  Griffin (see photo above) promptly found himself purpose in the form of a big stick to carry.  "Now I feel so much better," he seemed to say.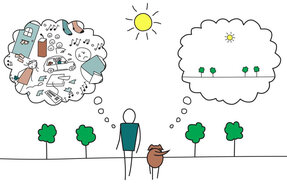 Clay Christensen writes and speaks about this,  and as we ambled through the Albany Pine Bush yesterday, I realized that Griffin explicitly understood that having clarity of purpose was far better than the freedom (and ambiguity) that the vastness of opportunity offered.  The task was now clear: find a big stick and safely deliver it back to the car.  In choosing this task, he became focused, engaged and (dare I anthropomorphize?) proud.  He looked up at us as if to say "see what I have? Do you approve?  Is it big enough?"  Rather than randomly running through the woods, criss-crossing the path, distracted by new scents, distant chipmunks and blowing leaves, he maintained a steady trot with head and tail held high, and a steady gaze straight ahead, maintaining his placement squarely and very intentionally in the middle of the path.
And just as Griffin seems to seek the freedom of ambiguity yet ultimately prefer the comfort of structure, humans thread this needle every day and seem have different levels of comfort with the unknown.
An aside:
Teaching family medicine residents and medical students last week, I was struck by this variability.  Some young physicians are perfectly happy to know that they don't know the cause of a patient's condition, so long as it is either resolved or not caused by something ominous.  Indeed, more than one-third of the time that patients seek medical assistance,  physicians are unable to ascribe a clear diagnosis.  As I expressed to the first-year medical student last Tuesday, "if you're not comfortable with uncertainty – don't pursue a career in family medicine. You'll be better off in a subspecialty like ophthalmology."  This was not meant to deprecate subspecialists, but to recognize that the people who choose subspecialties are generally less comfortable with the unknown or unknowable.  While my counsel was expressed to her, I was also advocating for her future patients.  There is nothing worse than a primary care provider who needs to know the right answer to every question.  Indeed, cascades of testing and intervention are emotionally, physically and financially harmful.  In many cases, a physician's personal discomfort with uncertainty is the cause of the cascades that are so common that we accept them as an unfortunate but immaleable reality. The key, therefore, is to match individuals with the work they will do most comfortably.  Some dogs would roam the forest happily.  Griffin is a dog who prefers to carry a stick.  Some physicians are comfortable with uncertainty, so will be very comfortable in primary care, while others would suffer as primary care providers, ordering too many tests, advising too many interventions, and as a byproduct of all of this, putting their patients in harm's way. Perhaps this is the tip of a different iceberg: just as Malcom Gladwell has questioned whether we're choosing the right law students, is it possible that we're choosing the wrong medical students for careers in primary care?
Physicians are just a subset of humanity.  Non physicians express this variability too.  The motto of my undergraduate alma mater, Hampshire College, is "Non Satis Scire." Translated:  "To know is not enough." Hampshire attracts students who are less focused on getting an A+ and therefore demonstrating what they know (indeed – there are no grades at Hampshire).  Rather, Hampshire's focus is on helping students solve problems.  This prepared me incredibly well for a career as a family physician.
Which problems should Hampshire graduates solve?  This question may be at the core of Hampshire's rebirth.  Some have argued that Hampshire should choose an identity (social justice, environmental science, computer gaming) and focus its resources on being the best at one thing.  But Hampshire has decided instead to venture forward with confidence and – yes – uncertainty.  This will prepare its current and future students well for what lies ahead in life.  They'll find their own stick, perhaps after a bit of chipmunk chasing.  Life isn't a race.
I found my stick, which aligns well with the specialty that chose me, family medicine: help others achieve optimal health and happiness.
What's yours?