November will mark the beginning of the 24th year of this blog.  

While my posts are far from frequent, I hope that each one is helping others in some way. 
That's always been my goal.  Along these lines, I'll offer the answer to a question I was asked by a start-up health IT company yesterday, and will also outline the process for the Costa Rica ==> Nicaragua ==> Costa Rica border run, which is both necessary and relatively easy.  


Health > Care
"Dr. Reider – why are you interested / willing to help out little company?"

Some context – and then my response.  (After – "hey – don't call me that.  Dr. Reider was my dad!")

I have worked @ the intersection of health and technology for nearly three decades.  I am now realizing that despite my nearly adolescent playful demeanor, this makes me an old-timer.  I have participated in nearly every kind of endeavor in the industry:  I've worked for investors, served on boards, started companies, killed companies, worked for government, worked for large publicly traded companies, health systems, and have served as an advisor to companies of all shapes and sizes.  In June of 2023, my wife and I moved to Costa Rica – taking advantage of the sabbatical she had earned in her role(s) at an academic institution for the previous decade and a half.   I have expressed rather publicly that "work is overrated" and started only doing things I enjoy 100%.  No collaboration with people who are hard to be with, no working for a paycheck just to do something.   Avoiding "work" is not the same as being idle.  We're both very active and even though we're not technically working – we are both doing things – some of which generate revenue.  But we're picky about what we do.  We need to be doing things that are perfect fits for our values, for our strengths, and for our own well-being. 
It's an incredibly privileged place to be. 
I get that.
And I am grateful that we've been able excel professionally in a manner that enables us to do this. 
We can be picky.
So what are the criteria?


Health > Care.  This is my shorthand for how a company prioritizes its work.  Are we trying to maximize revenue?  Or are we trying to maximize the health of the people we serve – and (no margin no mission) earning money as a product of better health?   In this era of value-based payment, one would think that it's easy to find companies with a PRIMARY focus on health (and therefore less of a focus on maximizing care / service / encounters, etc.) but this is actually quite rare.  Even companies that purport to participate on VBP programs – when one peels back the covers – can have transaction models that rely on selling more of something.  More things sold (encounters, DME, band-aids, etc.) means more sick people or more needs == more revenue.  This may be pragmatic and I respect the needs to do this – but it's not where I want to spend my time.  So I say "no" to anything that violates my "Health > Care" criterion.
Good people.  I don't just mean kind people or nice people.  I also mean: people who are easy and fun to work with.  If we are not having fun – no-go.  I only collaborate with fun people.  And – yes – of course – no ass holes.  
Learning.  I've been at this nearly 3 decades, but I have a ton more to learn.  So if there isn't an opportunity for me to do something novel – learn a new culture or a new skill – then it's probably better for me to say "no thank you."  And so I do that too.  
That's really it.  Three criteria that I apply to every opportunity.  If all three are 👍 – then we are ✅ and I'll do a consulting/advising thing with the company.  Right now, I am doing this with ~ a handful of companies, and I don't even think of it as work.  It's all fun.  I need no more.  It's perfect.

Border Runs
This section is written for a different audience, but (I hope) is equally useful.  US Citizens who live in Costa Rica have a few options for how to manage things.  Technically, until we are residents, we are tourists.  Tourists are allowed to own cars and homes and businesses.  It takes time (and quite a bit of paperwork) to become a resident – so while that process is ongoing – one remains a tourist.  Tourists are allowed to be in the country for 180 days. (This recently was changed from 90 days.)   If you overstay your visa, there is a hefty fine and the next time you try to re-enter the country, you might be denied.  So what does one do?  The border run.  I did that yesterday with two more experienced friends.  Here's what to do.
a) Drive to the border.  For us, this was driving the ~ 2.5 hours from our little town of Brasilito to Peñas Blancas, the border town on Route 1 – the Pan-American Highway, a road that starts in Prudhoe Bay, Alaska, USA, and ends in Ushuaia, Argentina. While it's incomplete in the Darién Gap between Panama and Colombia, it is roughly 19,000 miles long.  We were on it for about 100 kilometers.  The last 8 kilometers there were tractor-trailer trucks backed up on the side of the two-lane highway – making it into a one-lane highway in many places, despite bidirectional (two lane) traffic.  The trucks are all waiting in line to pass through the border on their way North.  The delay is not hours but days that these truck drivers wait in line to pass.  Step #1 is therefore to carefully drive past the trucks while not ending up in a ditch.  

b) Navigate the Costa Rica side of the administrative process. 

Follow along on the map: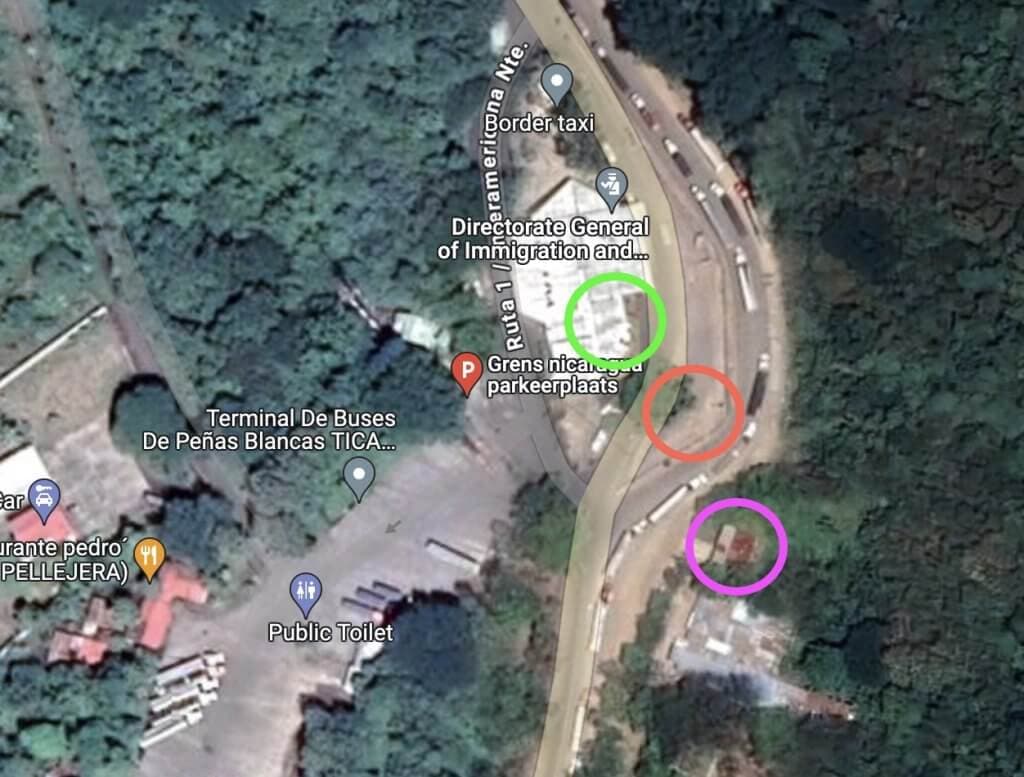 1) Begin by parking your car.  Yesterday, we parked under a tree at the red circle.  There were some guys there hanging out doing who-knows-what.  A tradition in Costa Rica is that a local with often volunteer to watch your car for a fee.  You generally pay the fee afterward when you know your car has been safely guarded.  1000-2000 colones is fair in 2023.  I can remember when 500 colones ($1) was common but it's more now.  We parked and a guy motioned to me that he would watch the car for me and I nodded and told him I'd pay him when we return. 

2) Walk South (back into Costa Rica) about 30 yards to a little green building.  This is where you pay your exit tax – which is $8 – payable in either US dollars or colones.  Get the receipt (the guy there put it in my passport) and now proceed to immigration.

3) That's the green circle above.  It's a white building with BCR (Banco de Costa Rica) signs.  There's a BCR ATM there – maybe that's why there are signs.  Inside – proceed to the desk, present your passport with the exit tax receipt and Chunk Chunk – get it stamped and you have now legally departed Costa Rica.  No questions here.  Super easy.

4) Walk North along the road.  Dodge cars and trucks if necessary.  Now you are leaving Costa Rica!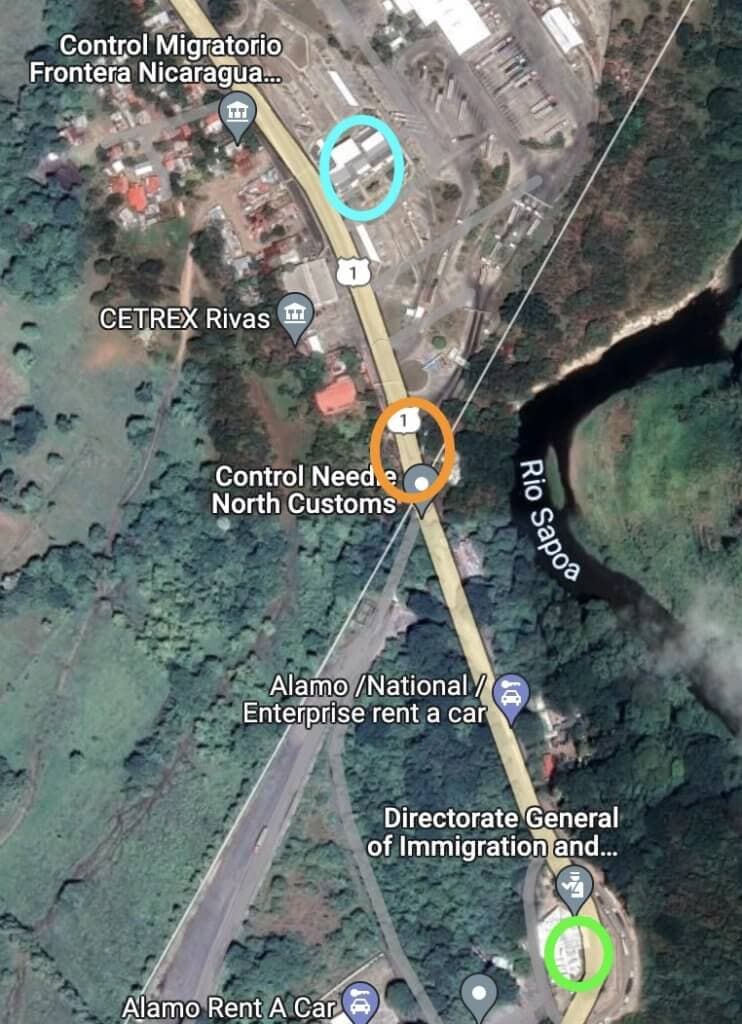 The green circle is here for reference – that's where we left the Costa Rica Immigration office.
Walk North along the road and at one point (orange circle) there will be a person or two waiting for you.  Hand them your passport.  They will look at the photo and at you and hand it back to you.  Keep Walking.

5) Nicaragua immigration.  The white building (light blue circle) is your next destination.  About 200 meters past the technical border – where you showed your passport. At the door, there is a person collecting the tax for Cardenas Rivas, the local municipality. This tax is $1 US.  You should have ones with you.  They can give you change if you have a five but it's best to have some ones handy. You'll need another later.  They will give you a receipt but nobody will ask to see it.  Wait for a minute in line (my wait was a minute but it can take an hour as well – so YMMV). Answer the usual immigration questions (What is your profession? Where are you staying, etc.) I told the guy I was walking back to Costa Rica in 5 minutes and he nodded.  Chunk Chunk.  Stamps on the passport and pay a $3 US fee.  Get receipt.

6) Nicaragua departure.  After immigration, walk through to the other side of the building and back in the (other) front door and pay the municipality tax again for $1.  Get receipt again. Now back to an immigration officer at the window.  Fewer questions this time.  More Chunk Chunk.  $3 fee.  Another receipt.  Done.  

7) Walk back to Costa Rica.  At the physical border, you may (or may not) have to show your passport to a Costa Rica immigration officer.  We did but my travel partners said that's unusual here.   Now back to the other side of the Costa Rica immigration building for re-entry.  No fee here.  Show the passport and show (on your phone if necessary) proof of a ticket that you have purchased (bus or plane) to depart Costa Rica at some point.  You can buy a refundable plane ticket and cancel it tomorrow.  Seems odd that they do this since they know you may just cancel whatever ticket you have and stay 179 days and come back here to the border but they want to see it.  I showed by receipt for a flight two months in the future on my cell phone.  The officer looked at it and Chunk Chunk – stamped my passport and wrote in 180 days and I was done.

Now walk back to the car.  Pay the guy whatever you like (2000 colones made him very happy) and brace for the scary 1st 8 kilometers home.

On our way South, we stopped at the beautiful Mirador de La Cruz for a quick drink and then a perfect lunch at teeny tiny Soda Sazon Cruceño.  Both highly recommended and only moments off Ruta 1.